Our catalogs include a complete list of our designs as of the "Updated" date. Any sets added to the website after the "Updated" date will not be included in the catalog.
Current Catalogs - updated 3/2/2015
AKD Font, Monogram, Number & Symbol Catalog 2015
AKD Frame & Border Catalog 2015
AKD Design, Applique & Template Catalog 2015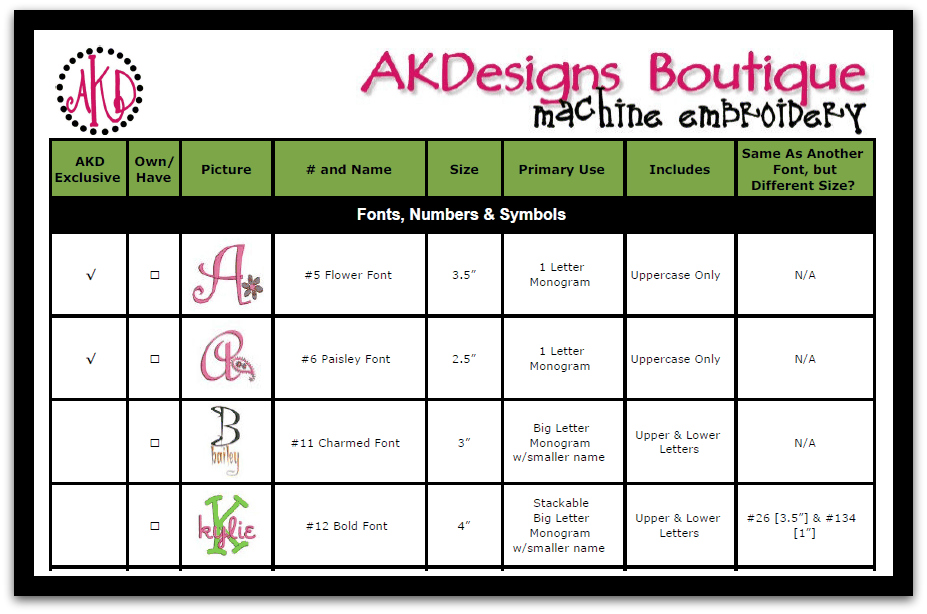 Previously Published Catalogs - for reference

Version 5 - 3/2/2015
AKD Embroidery Supply Catalog 2015 - no longer selling supplies...
Version 4 - 5/31/2013
AKD Font, Monogram, Number & Symbol Catalog 2013
AKD Frame & Border Catalog 2013
AKD Design, Applique & Template Catalog 2013
AKD Embroidery Supply Catalog 2012

Version 3

AKD Font, Monogram, Number & Symbol Catalog 2012
AKD Frame & Border Catalog 2012
AKD Design, Applique & Template Catalog 2012
Version 2
AKD Font, Monogram, Number & Symbol Catalog 2011
AKD Frame & Border Catalog 2011
AKD Design, Applique & Template Catalog 2011
AKD Embroidery Supply Catalog 2011
Version 1