Posted by Angie - Owner AKDesigns Boutique on 6th Dec 2014
SewWhat-Pro is affordable and easy to use embroidery software for viewing, editing and converting embroidery files from various different sewing manufacturers. It includes all the features available in the SewWhat! editor, plus various additional Integrated Project Management features (see the description of SewWhat-Pro features below). A plugin is available from myriaCross (see features list below) for converting Cross-Stitch files to embroidery files. You can download the User Manual - click here - for more details about the many features available in SewWhat-Pro. We [AKDesigns Boutique] also made this short tutorial to make it easier to perform some of the most basic and popular features of SewWhat Pro ~ SewWhat Pro Instructions. To download SewWhat-Pro [demo or retail version] - click here, or to make an online purchase - click here.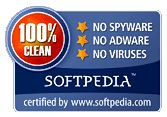 SewWhat-Pro has been tested in the Softpedia labs using several industry-leading security solutions and found to be completely clean of adware/spyware components.

Advanced Features in SewWhat-Pro
Cutting toolbar allows graphic separation of patterns at specific stitches
Density adjustment dialog to resize a pattern at constant density
Graphical or text-based reordering of thread color stops is available
Capability to write Smart Media or Compact Flash cards for Singer, Brother, Janome, and new Bernina machines
Converts Cross Stitch patterns to embroidery files using a "plugin" from myriaCross (MC). You may download the DEMO, or purchase the MC plugin for SewWhat-Pro, here. Once the plugin is installed, it becomes seamlessly integrated into the SewWhat-Pro workspace and can be used to preview and convert a variety of different Cross-stitch formats. NOTE: If installing the plugin on a 64-bit computer, be sure to use the 64-bit version of SewWhat-Pro. After updating to Windows 8/8.1, if the plugin stops working, simply uninstall and reinstall to reactive it.
Supports a command-line interface for file conversion which has the form:
SewWhat-Pro.exe file1.ext1 file2.ext2 /c
(be sure to put file names or paths with blanks inside quotes)

Integrated Project Management Features of SewWhat-Pro
Includes an editable table for entering project information
Easily editable list of thread colors and manufacturer brands
Capability to read/write thread color "txt" files for single/multiple projects
Thread palettes from over 15 manufacturers are available
Customizable user-defined thread palettes can be easily added

File Types Supported by SewWhat-Pro (Convert From = Open and Convert To = Save As)


SewWhatPro Workspace
The SWP workspace is very similar to the one that is used by SewWhat! The two main differences are (1) there are additional toolbar buttons (for cutting patterns, adjusting thread density, and writing to Smart Media cards); and the Project Pane at the right of the screen includes new Project Management features (see the figure below).
SewWhat Pro workspace