Posted by Angie - AKDesigns Boutique on 15th Mar 2016
SewWhat-Pro, SewArt, and SewWrite Embroidery Software Comparison
Please Read First ~ This document is not meant to replace your research of each embroidery software option that is available to you. This is just a quick list meant to help with determining which software program might best fit your needs now and in the future. The list of features provided is not a full list of features for any of the embroidery programs.
SewWhat-Pro (SWP) is software for viewing, editing, combining, resizing and converting embroidery files arising from various different sewing manufacturers. It includes various Integrated Project Management features.
SewArt (SA) is an embroidery digitizer for converting raster image files (*.jpg/*.png, etc), vector images (*.svg, *.emf), and clipart into embroidery file formats. Image processing tools and a step-by-step wizard are provided to produce an image suitable for yielding a high-quality embroidery stitch-out.
SewWrite (SWR) is software for creating and arranging high-quality lettering and monogramming for embroidery files. It uses hand-digitized alphabets based on Windows fonts for greater quality and includes a wide range of typefaces. User requests for additional alphabets will be considered. SewWrite includes over 70 alphabets and four symbol/dingbat alphabets.
Recommendation: Most of my customers don't get one program or another, they get all that they need because they are very different programs with very different features and they complement each other.
CLICK HERE to OPEN active .PDF with links [you can also easily print or save to your computer.]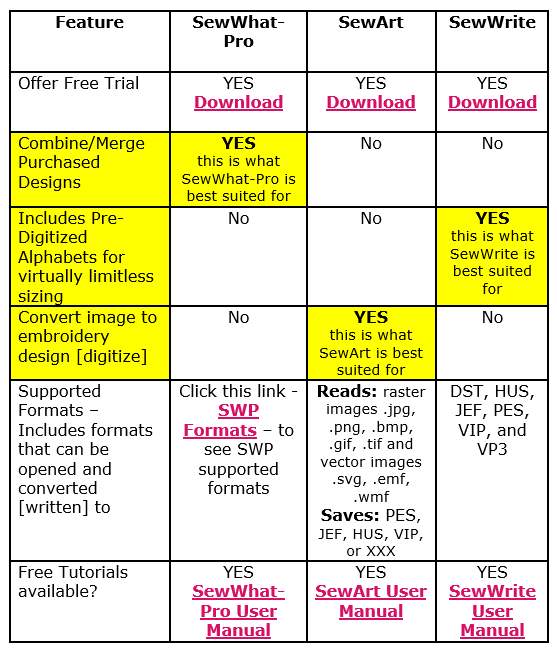 Please e-mail me at CustomerService@AKDesignsBoutique.com if you have any questions about this document or if you find any information that is not correct so that I can update it.