SewART Digitizer Embroidery Software
SewART Digitizer Embroidery Software
Rating:
( 5 product reviews )
Availability:
Download from Download Page and Registration # will be e-mailed within 24 hours
---
Product Description

SewART Digitizer Embroidery Software
Serial # will be e-mailed within 24 hours

SewArt is software for converting clipart or other forms of raster and vector images into an embroidery file. Image processing tools and a step-by-step wizard are provided to produce an image suitable for yielding a high-quality embroidery stitch-out. SewArt User Manual - click here.
NOTE: This digitizing software can be used alone without SewWhat or SewWhat Pro.
Choose Your Download option below:
Ready to give it a try for FREE? Download the Demo Version from the link list below. Demo is valid for 30 days. NOTE: Users who are using the DEMO and interested in purchasing should allow at least one day BEFORE the DEMO expires to purchase the license. This will ensure that the use of the product won't be interrupted.
How to Find which Processor YOU have [32-bit or 64-bit] - Click Start Menu, then Control Panel, then System to see the Processor under System


~ XP, Vista, Windows 7 32-bit Demo ~

SewART32




~ Vista, Windows 7 64-bit Demo

~

SewART64



Ready to jump right in and BUY now without trying it?

Perfect ~

you will need to add this item to your cart, proceed to checkout and process your order. Next, S&S Computing [the makers of SewART] will e-mail your registration code to you within 24 hours of payment.

The last step will be to come back to this page and download the Retail Version from the link list below.




~ XP, Vista, Windows 7 32-bit

Retail

~

SewART32




~ Vista, Windows 7 64-bit

Retail

~

SewART64

All Sales Are Final

- It is strongly recommended that the product be run in DEMO mode to determine if it is satisfactory for your needs, before purchasing a license. Once a license - which is a form of electronic media - is purchased, it can not be returned for refund or exchange.

Terms of Use

- All product licenses allow you to use the software on up to - but no more than - two of your own computers.
Features
Reads raster or vector format images (supported input formats include *.bmp, *.png, *.jpg, *.gif, *.wmf, and *.emf)

Allows images in other (unsupported) file formats to be pasted into the SewArt workspace

Converts images to high-quality embroidery files for sewing

Supports output embroidery file formats including Brother (c) *.pes, Janome (c) *.jef, and Singer (c) *.xxx (these may be converted by SewWhat-Pro, or other embroidery editors, to a much larger variety of embroidery file formats compatible with most home and commercial machines)

Contains image-processing tools for converting images into color-reduced, smoothed images suitable for digitizing

Includes a variety of pattern fills which can be applied to sew individual regions of the image

Supports both auto-digitizing and manual digitizing options to give substantial user control over the digitizing process
Getting Started

The help that accompanies SewArt contains a mini-tutorial that describes the steps necessary to load input image files and convert them to embroidery files. After opening SewArt by double-clicking the desktop icon, click the Help/Help Topics menu item. This will open the Getting Started main help page which presents a step-by-step tutorial for using the various features of SewArt.

Several image-processing tools are available in SewArt. In many cases, these will be necessary to use in order to reduce the color content and smooth the image file before it can be sewn. Usually, clipart images are already smooth enough to be sewn immediately, so these constitute a good set of images for starting to use the digitizing features of SewArt.

Once a suitable image has been obtained the auto-digitizing Sewing mode is entered by clicking the Convert toolbar button (the sewing-machine icon). This presents a stitching toolbar from which choices for pattern fills, stitch angles, etc., can be made. Options for auto-digitizing the entire image or just a single color, or manually sewing each color in the image, are available on this toolbar.
System Requirements
SewArt is a native Windows® application. It will run on versions of the Windows OS (Operating System) including XP, VISTA, Windows 7, and Windows 8. Use on the MAC® Operating system requires a Windows Emulator. While we do not recommend any particular emulators, MAC users have told S&S Computing [the makers of SewArt] that their products run well with VMWare Fusion® and Parallels Desktop for MAC®.

All S&S Computing software will run on 32- and 64-bit Windows OS. To determine which bit size your OS is, go to Start->Help and type "System Information" (in Windows 8, in Tile view, just type "System Information").
Click HERE to see Current Sales
SewART Workspace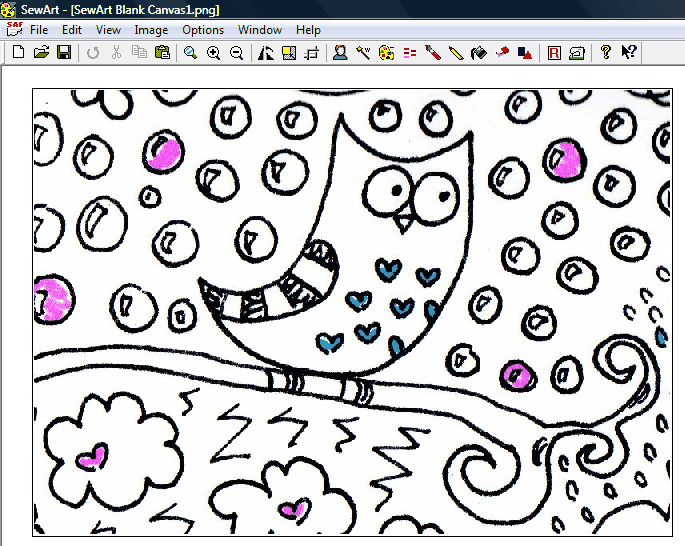 Note to all MAC users:
We have had some users have compatibilty problems with our Embroidery Designs, so please download these files -
click here
- and test them to ensure that you will be able to use our files.
If you have Boot Camp [or another similar program], you should be able to boot into Windows and download the files without a problem
.
Find Similar Products by Category
Product Reviews
Pretty good software

Posted by Cynthia on 7th Mar 2014

I like the fact that it has an editor built into it, but the only reason I don't give it 5 stars is because the editor doesn't work as well as Adobe Photoshop. SewArt takes either too much or too little off when I'm using the eraser feature and can be frustrating. I use it mostly to run my scanned images through and make them more workable for Photoshop. Once I finish editing in Photoshop, I run it back through SewArt to create my file for my embroidery machine. Sometimes I have to digitize an image more than once, as some parts of it don't show up when I sew it out. I'm still trying to overcome that issue. The software doesn't have the ability that I know of to change the order of the stitching. I prefer to program my outlining for last.

---

great product

Posted by Maureen on 18th Jan 2014

have stumbled across your software by accident and wow it is great

---

This is great software

Posted by Linda on 28th Dec 2013

I've tried several digitizing software but this is the best. It's easy to learn and to use.

---

the best I have tried! and I have tried many!

Posted by http://renagadehearts.storenvy.com/ on 9th Apr 2013

worth the money. very cheap compared to some other programs and very very easy compared to others I have tried. the demo is very good and doesnt seem to hold anything from you to try for the 30 day trial so you can really test it all! I have singer futura xl 400 and the software is easier than the autherized singer software. I returned the singer software becasue it was a pain and twice as expensive. if you have photoshop it helps, its not required but makes it easier to clean up pictures before using sewart64. will convert to so many readable formats for machines (borther, singer, janome, etc.)I see no negatives. I have owned it for a few months now and I use it for my machines every 3 days if not then everyday. it is a pleasure!

---

SewArt Software

Posted by Carol-Busy Stitches on 29th Oct 2012

Purchased this program because a customer asked me to stitch a logo that was in vector. Have only had the program for a week but it has been very easy to understand (so far) on my own. There is a tutorial on web that is very helpful. So far I really like this and feel I will use it quite a bit.

---
Customers Who Viewed This Product Also Viewed