Description
SewClean Duplicate Embroidery File Remover Software
Please READ the following 3 bulleted items BEFORE PURCHASING - NO REFUNDS will be accepted! Program features are below the important notes.

** MAC, Tablet, and Chromebook USERS - This program is made for Windows computers. It will NOT work on a MAC, Tablets or Chromebooks. NO REFUNDS will be accepted!

** FREE DEMO - Please copy and paste the link below into your browser to download and install the trial version before purchasing.
https://sandscomputing.com/Applications/InstallSCL.exe. After installation, select "Demo". No need to install again once you purchase it, the demo and retail downloads are the same. Once purchased, just register your trial version to gain access to the full retail version! It is highly recommended that you download the trial to ensure software is compatible with your computer. Because this free trial is offered, NO REFUNDS will be accepted!

** When will I receive the Serial Number email? The serial number will be e-mailed from S&S Computing usually within within minutes of your purchase, but within 12 hours max - it's a manual process. While your registration is being processed, the software is functional unless you have an expired demo version.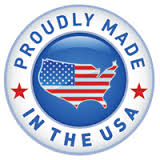 SewClean Information and Features
SewClean (SCL) is software that efficiently scans selected parts of your computer system for duplicate embroidery files. (A duplicate file is one that contains the same pattern information as another.) User-defined criteria can be set to remove duplicates, thus freeing space on your hard drive, or to move them to special folders. SewClean will scan user-selected fixed (hard) drives, USB connected drives, CD drives and networked drives, as well as Zip and RAR archives. Duplicates can be sent to the Recycle Bin or to a special user-defined folder for future deletion. No files will be removed until the Delete button is clicked.
Q Is an Internet connection needed to run the software?

A The Demo does not require an Internet connection. However, the licensed (retail) version requires Internet access to register the software. Once the software is registered, Internet access is required – at least temporarily for the first several usages of the software – to verify the registration. After that, the software can be run entirely offline (without Internet access) if necessary. Internet access is, however, desirable to receive timely update information and download updates.

The DOWNLOAD button above is for the DEMO and RETAIL version - they are the same - so you only need to install once!

Support Group Links - click here
International Support
SewClean offers support for some languages other than English. To use this language support, download the appropriate language file(s) from the links below and save it in your S &S Computing/SewClean folder. Open SewClean and click the Options menu item Language Support and choose the desired language there.

Country Language File
Russia SewCleanRUS

Using SewClean - Getting Started
Below is a brief explanation of how to use SewClean to find and safely remove embroidery file duplicates on your computer or external hard drive. This process will free-up space on your hard drive for storing additional files.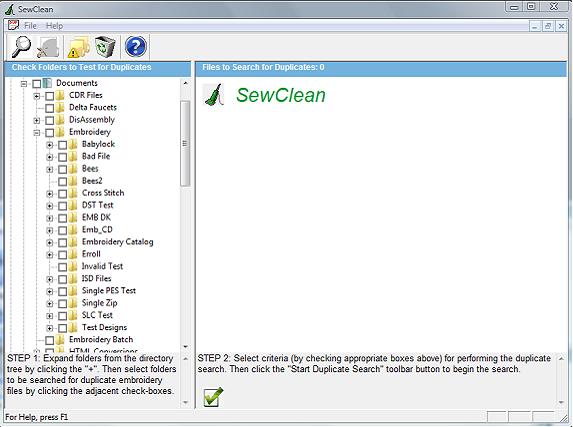 Figure 1. Opening SewClean screen
Figure 1 shows the workspace which appears when SewClean is first opened. The directory file tree in the left pane has been expanded (by clicking on "+" signs next to the folder icons) to reveal subfolders on the computer (and network). The cleaning process is initiated by selecting folder(s) to be searched for duplicates. This is done by clicking the check-box next to the folder. At this step, the right pane is blank.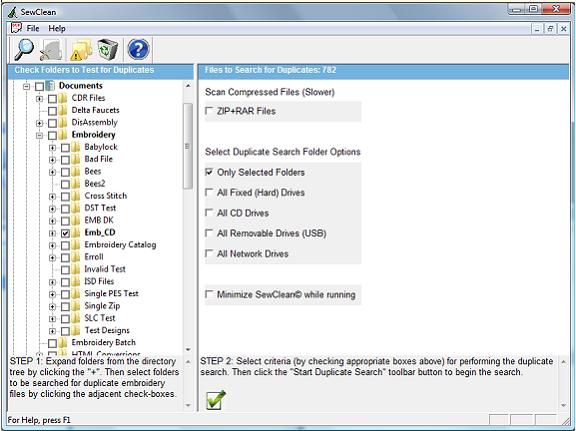 Figure 2. Options for selecting folders and files to search in SewClean.

Figure 2 shows the workspace after the folder "Emb_CD" has been checked (marking it for cleansing) in the directory folder list. At the top of the right pane the number of files to be checked for duplicates is indicated (782 in this example). Depending on how many folders and files are being checked, it may take SewClean several seconds or minutes to compute this number. There is no need to wait for SewClean to finish this process - you can continue on to the next step at any time.

Various scan criteria for limiting the search for duplicates are now available to be selected (by checking the appropriate boxes in the right-pane). The most common selection criterion (chosen here) is to scan all the files in the selected folder(s). Note that the scanning criterion for compressed files applies only to files not in the current folder selection. In other words, all files including compressed files will always be checked if the "Only Selected Folders" item is checked.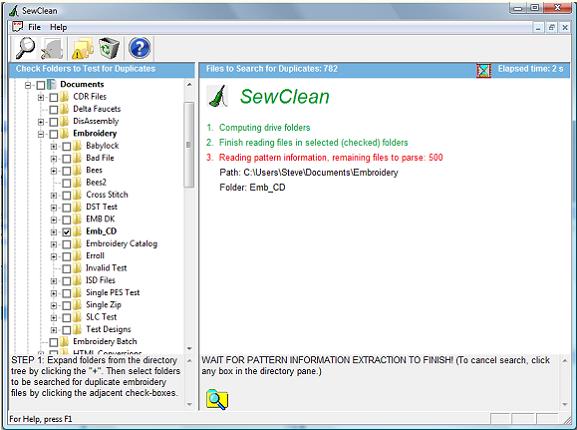 Figure 3. SewClean workspace appearance while
scanning for file duplicates.

Figure 3 shows the workspace after the the duplicate search toolbar button (spy-glass icon) has been clicked. While SewClean is searching the selected folders for duplicates, a status report indicating the number of files remaining to be read ("parsed") is displayed. Depending on how many folders and files are being scanned, and how many are compressed, this step may take several seconds to minutes (or even hours!) The elaspsed time for the search appears in the upper right corner of the title bar.

This step may be terminated at any time by clicking on any check-box in the left (directory) pane, thus altering the folder search path.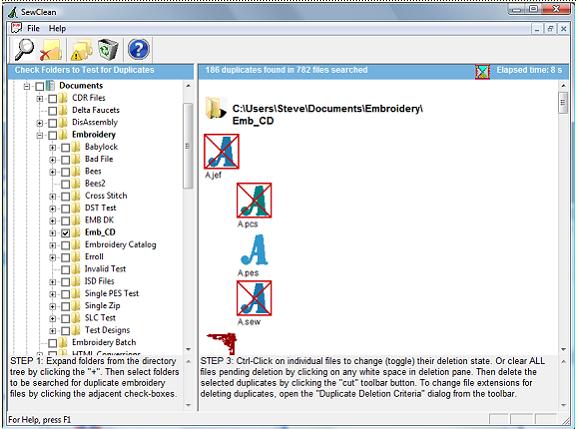 Figure 4. Final SewClean screen showing duplicates marked for deletion.

System, Download & Install Help:
System Requirements for S&S Computing Software Products
All S&S Computing software products are native Windows® applications. They will run on versions of the Windows OS (Operating System) including XP (SP3 must be installed), VISTA, Windows 7, 8, 8.1 and 10.

For information describing installation of our software on a MAC computer (Intel-based, OS-X), click on this link.

Embroidery Machine Compatibility - This software installs on your computer and is compatible with most home, commercial and industrial machines. See our "Supported File Types" table to make sure that your format/machine type is listed.
Updates / Reinstall for S&S Computing Software Products:
Update:
All software products offered by S & S Computing come with a free update policy for the lifetime of the product. AutoUpdate features on the Help menu of our products will inform you when updates are available for download. You can then update from within the open product.
Reinstall:
If you get a new computer or your computer crashes in the future, you can just come back to AKDesignsBoutique.com, download the software again from the Embroidery Software Download page - click here - and enter your user name & serial number - you will not need to purchase again. If you can't find your serial number, you can send us an e-mail [customerservice@akdesignsboutique.com] and we'll send it to you again.

REGISTRATION INFORMATION:
Registration/Serial # will be e-mailed from S&S Computing after purchase – usually within minutes, but you'll never wait more than 12 hours. Registrations are sent at least once daily after 4:00 pm EST. To allow uninterrupted usage of the product, it is advisable to order the product at least 1 day before the DEMO period expires.

If you do not receive your registration within 12 hours, then check that the e-mail address support@sandscomputing.com is "whitelisted" so it will not be blocked by your e-mail client. This is accomplished by adding our e-mail address to a safe senders list so your registration e-mail is allowed to come safely into your Inbox. You can send us an e-mail [customerservice@akdesignsboutique.com] or call at anytime to check on your order - 678-390-2641.

Shipping for S&S Computing Software Products:
We offer shipping of CDs (within the US only) for an additional $17.00. Click on the "CD by Mail [add $17.00]" button in the Add-to-Cart area to order a CD for any of the S&S Computing products. Shipping is via USPS First Class delivery and usually requires 7-14 days for delivery [shipped by S&S Computing, not AKDesigns Boutique].
Terms of Use for S&S Computing Products:
All S&S Computing product licenses allow you to use the software on up to - but no more than - two of your own computers.
Return Policy for S&S Computing Products:
All sales are final - No Refund for ANY reason. S&S Computing software can be downloaded and trialed in Demo mode before purchasing a license by using the Download buttons on the product pages.
Click HERE to see Current Sales